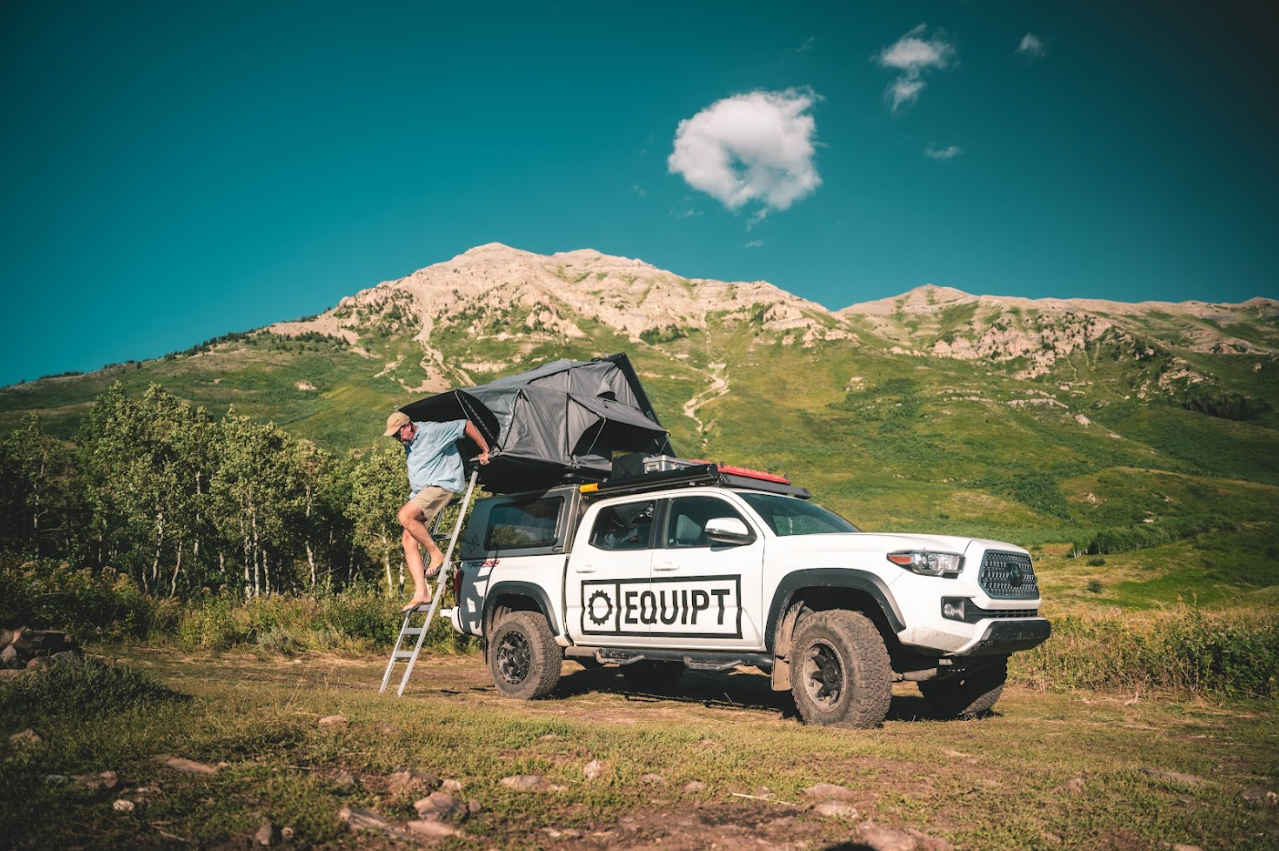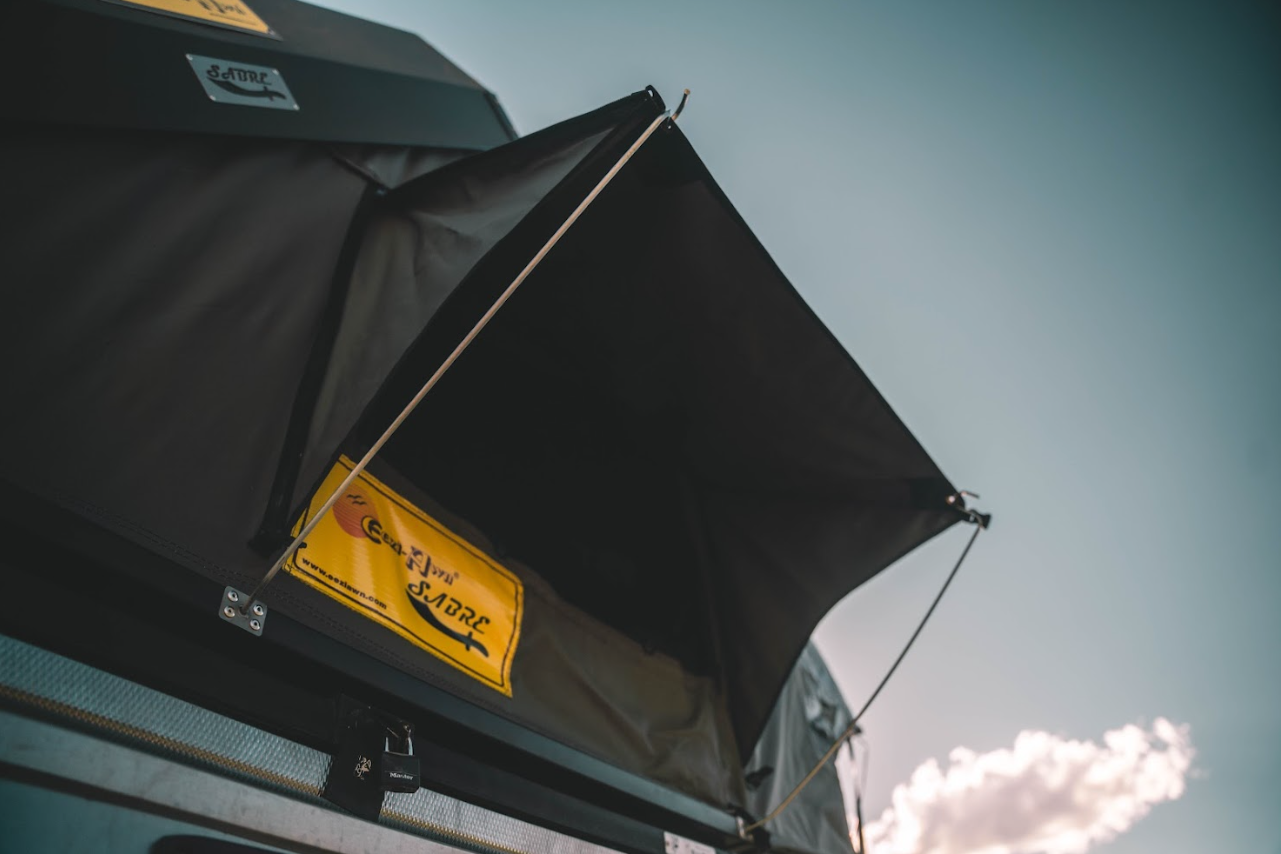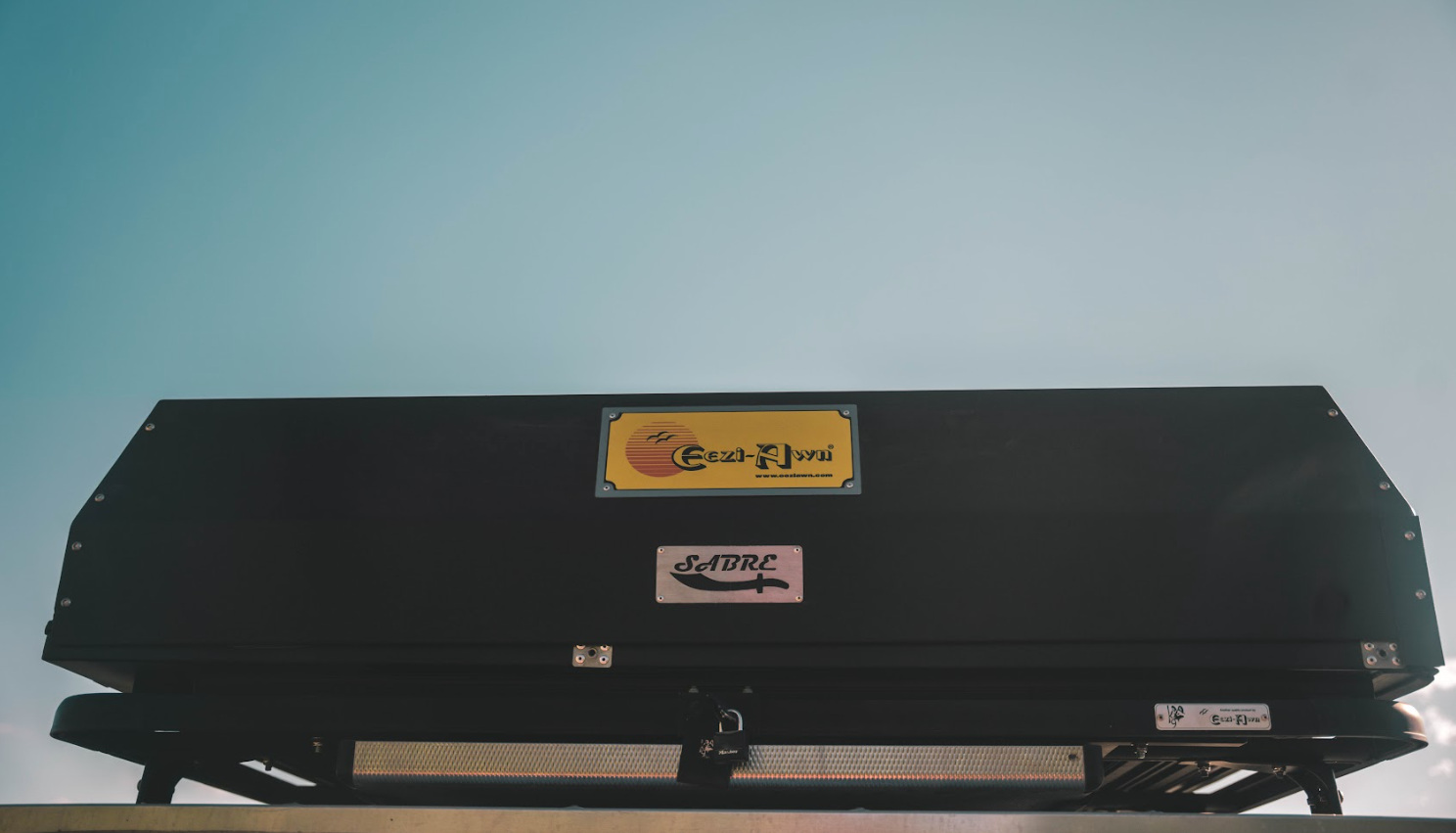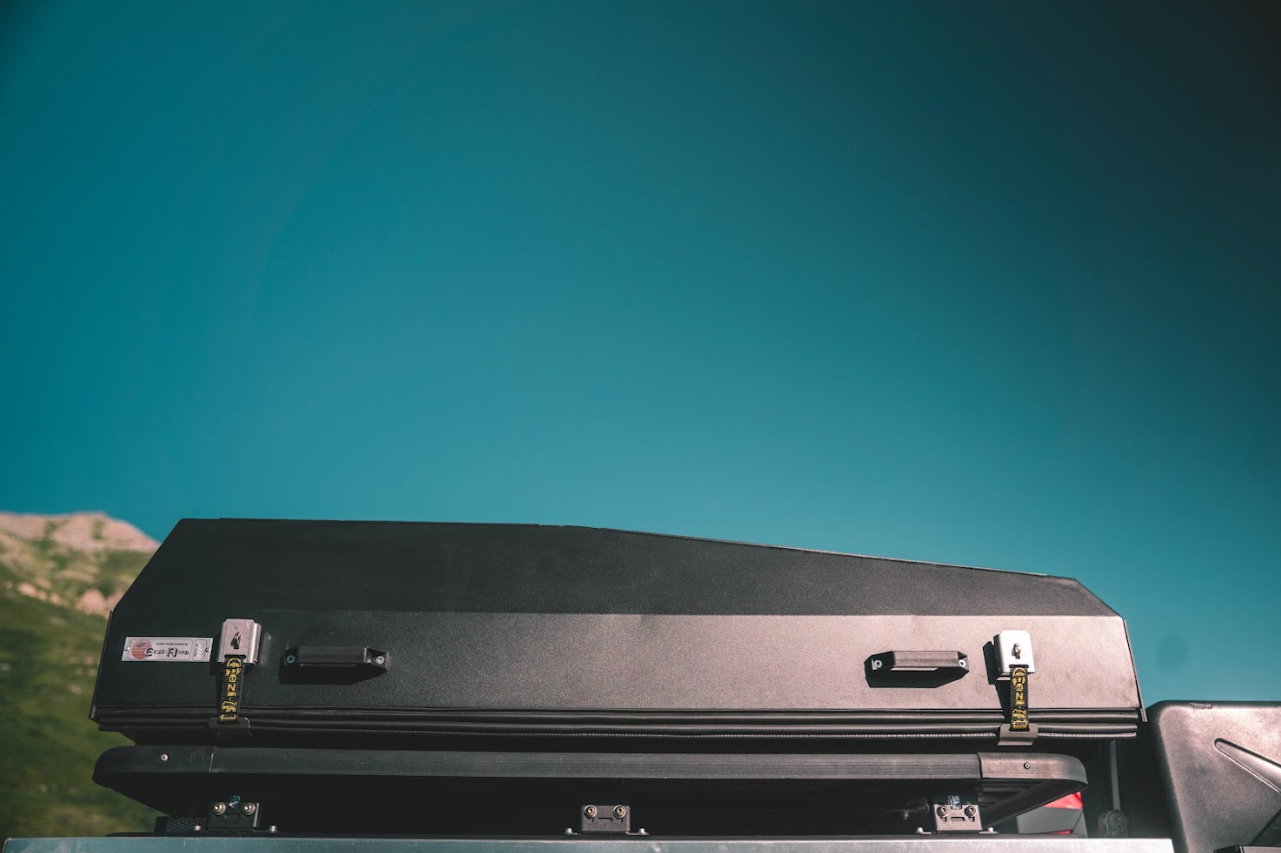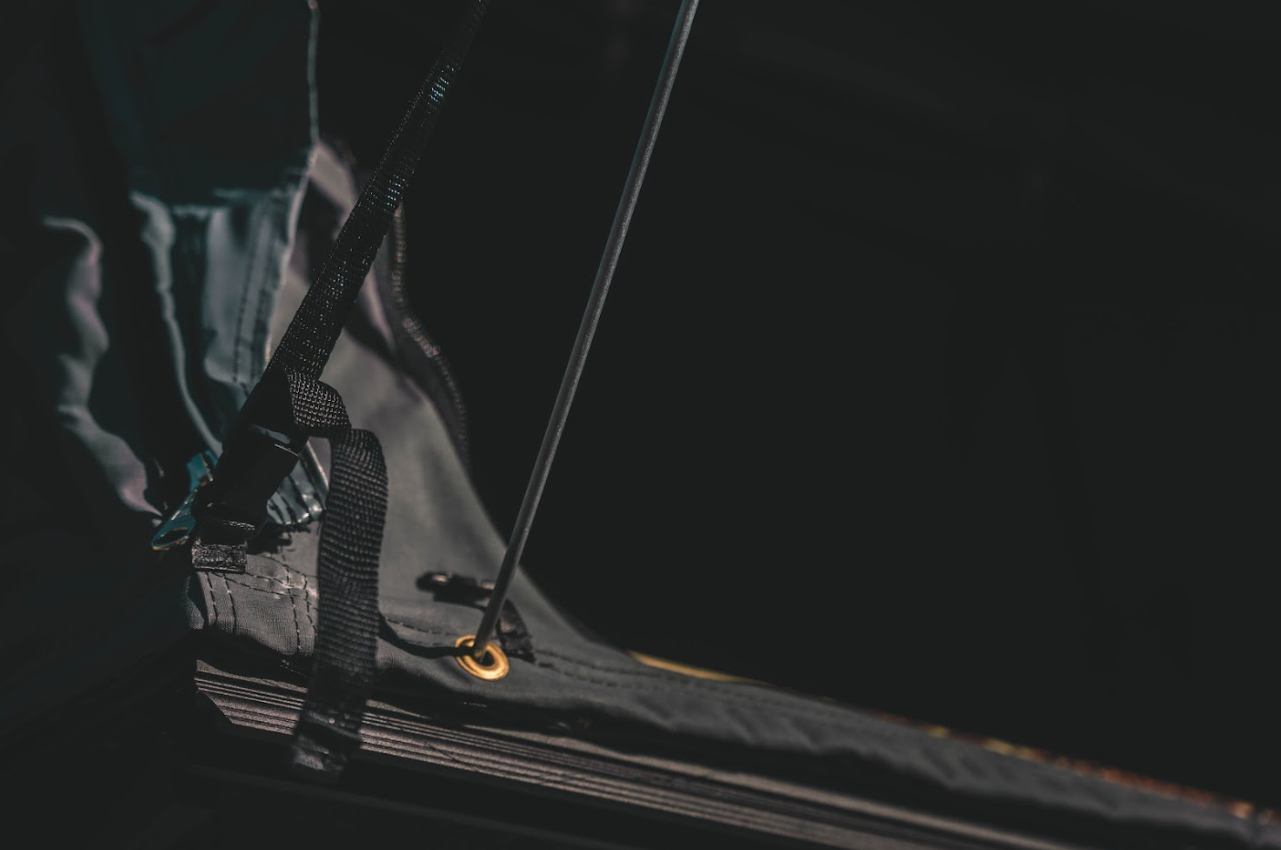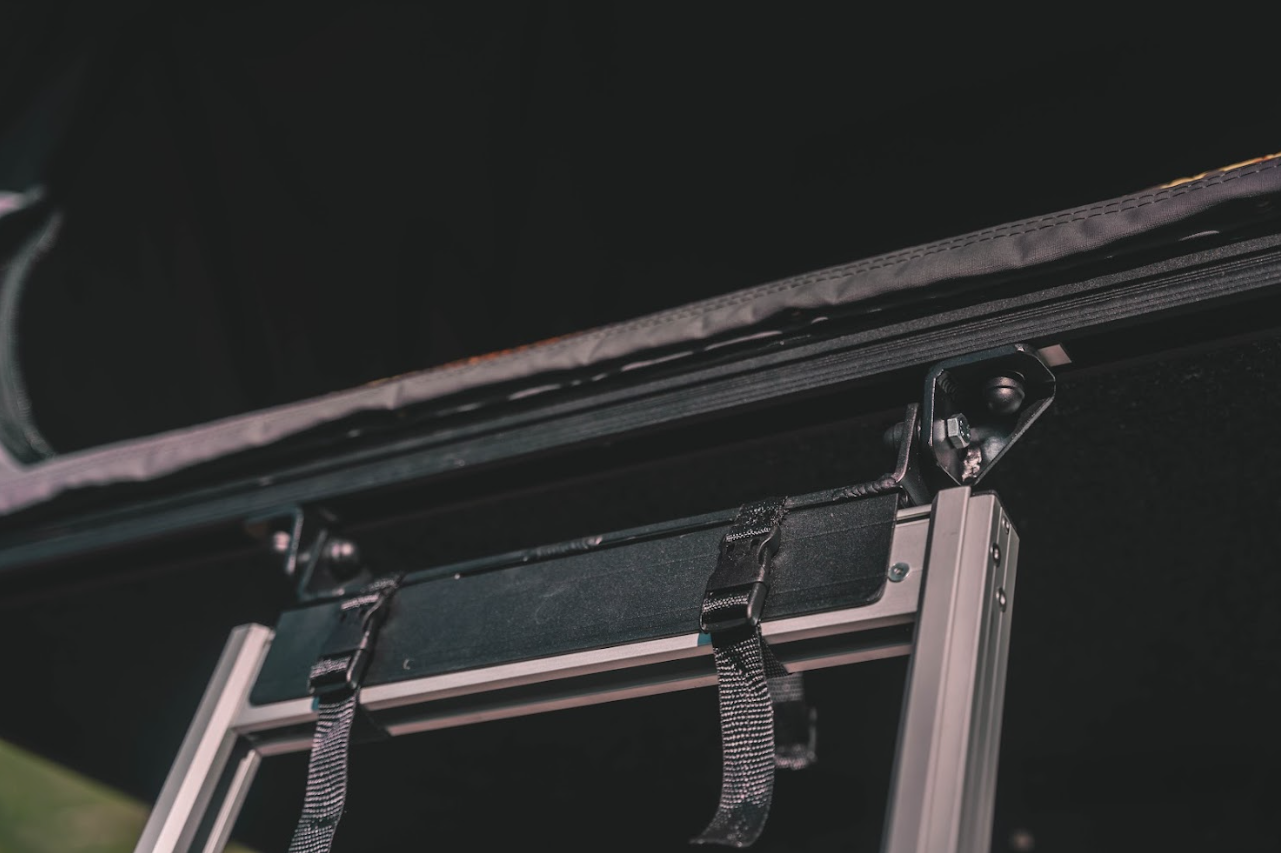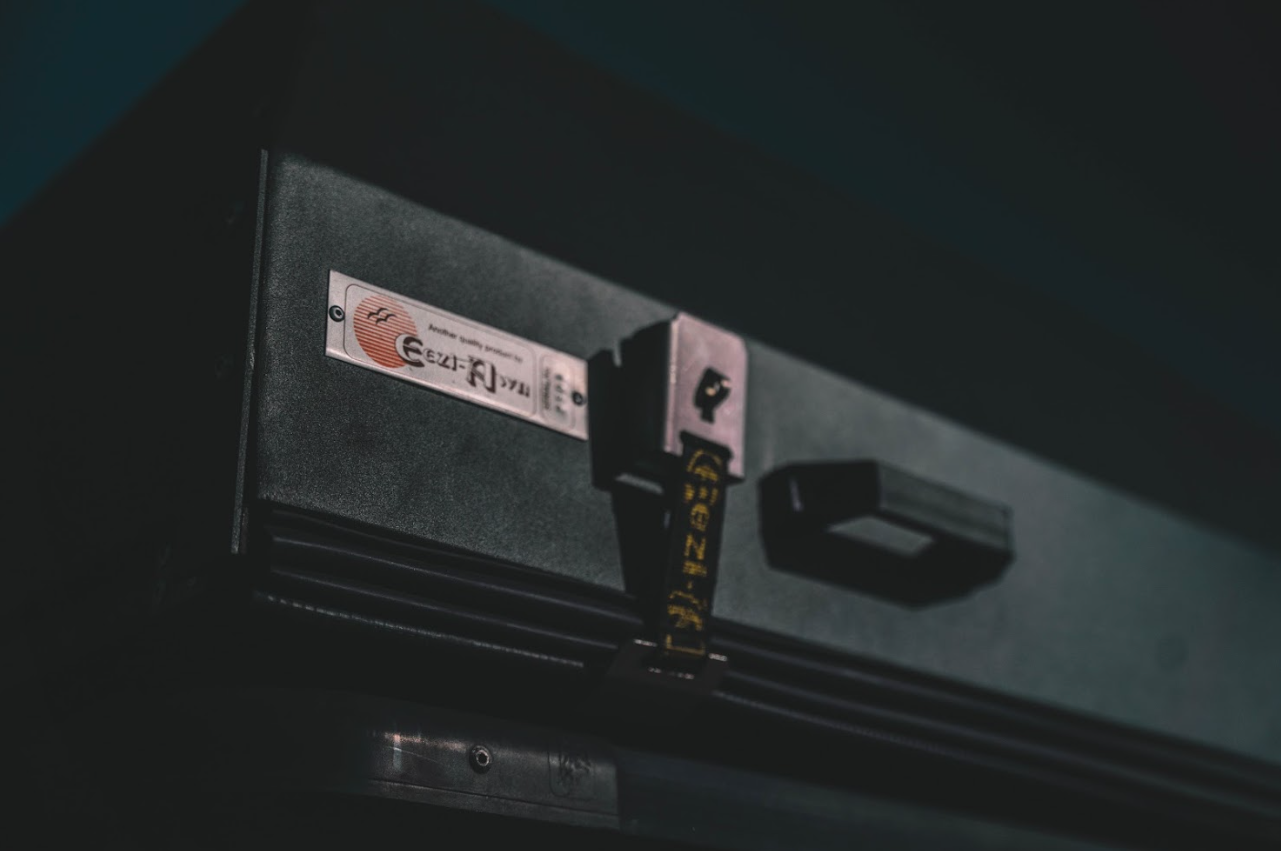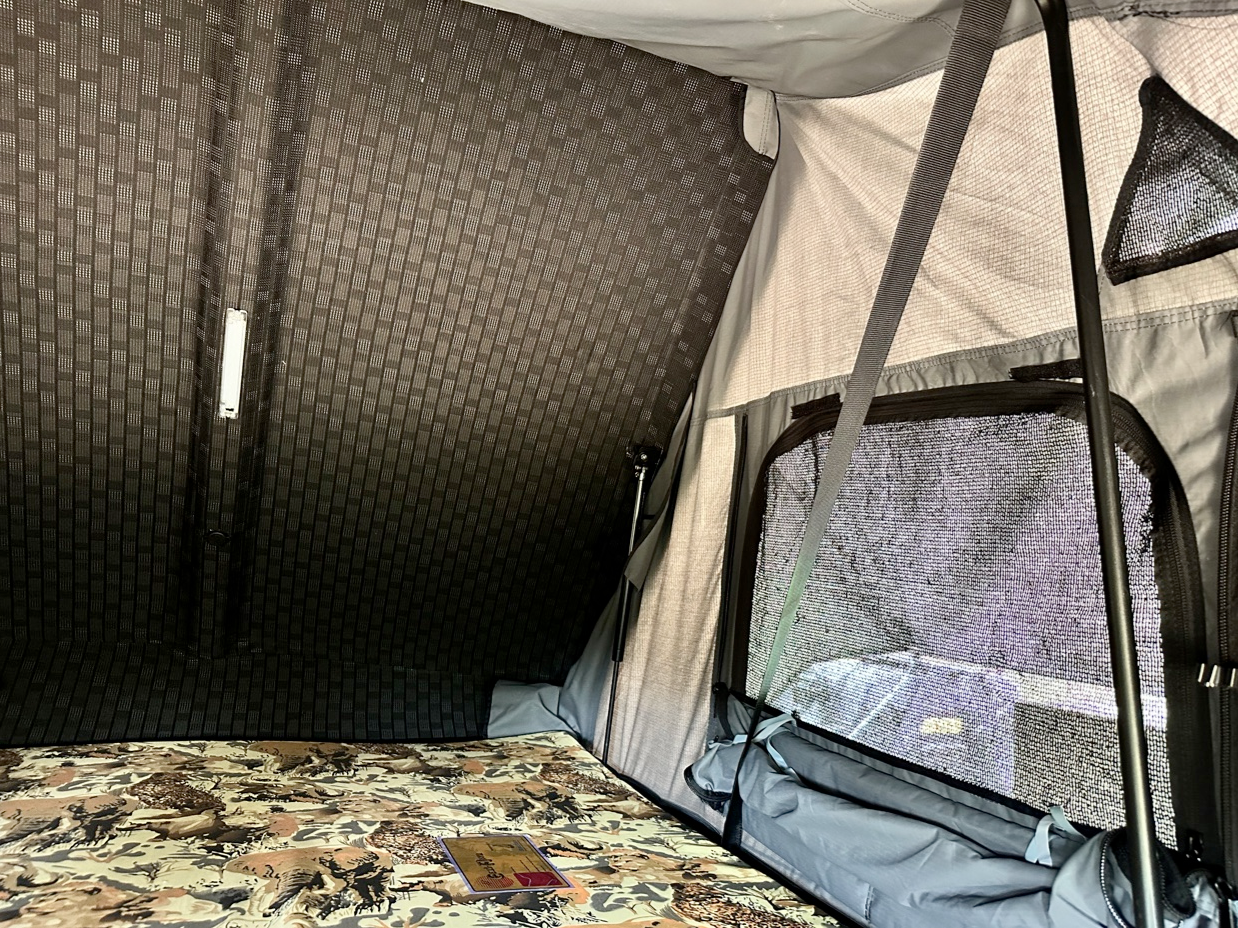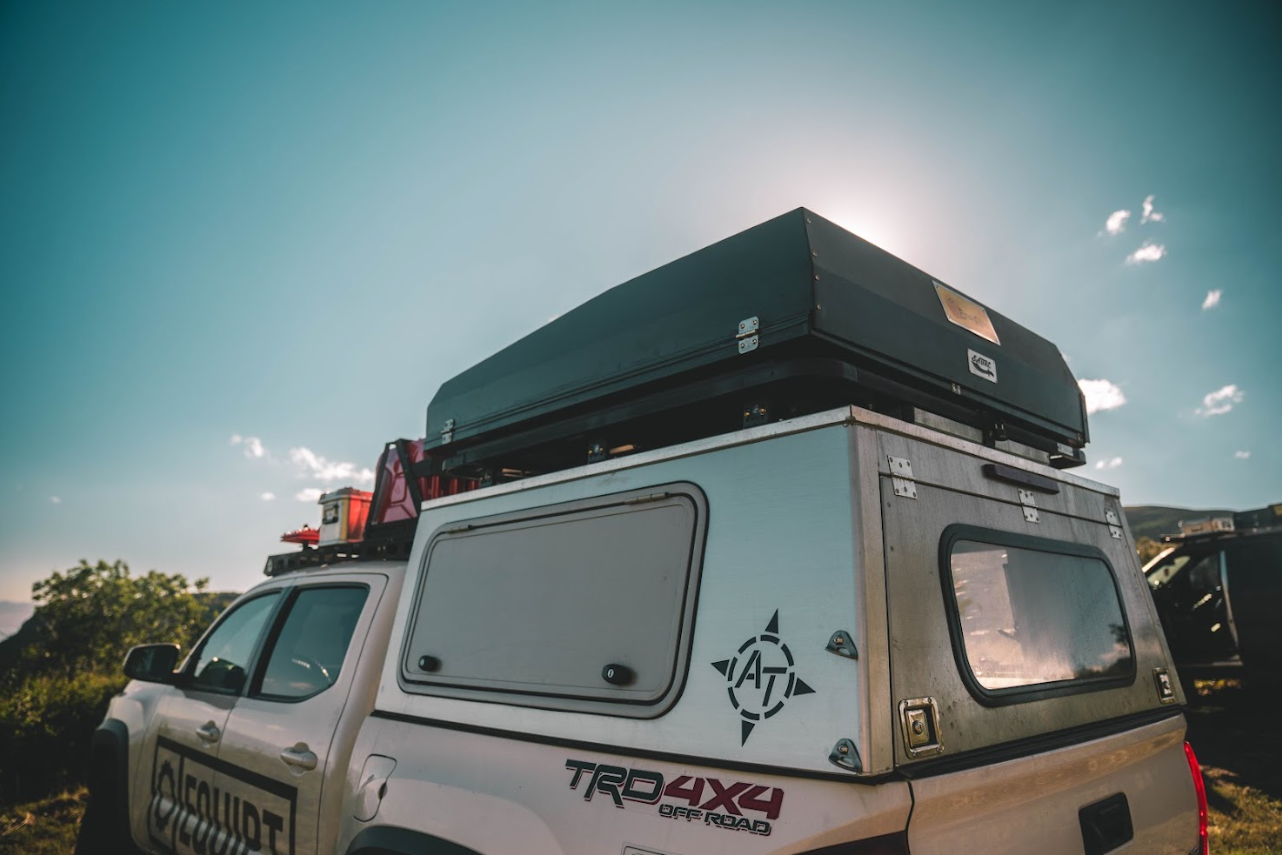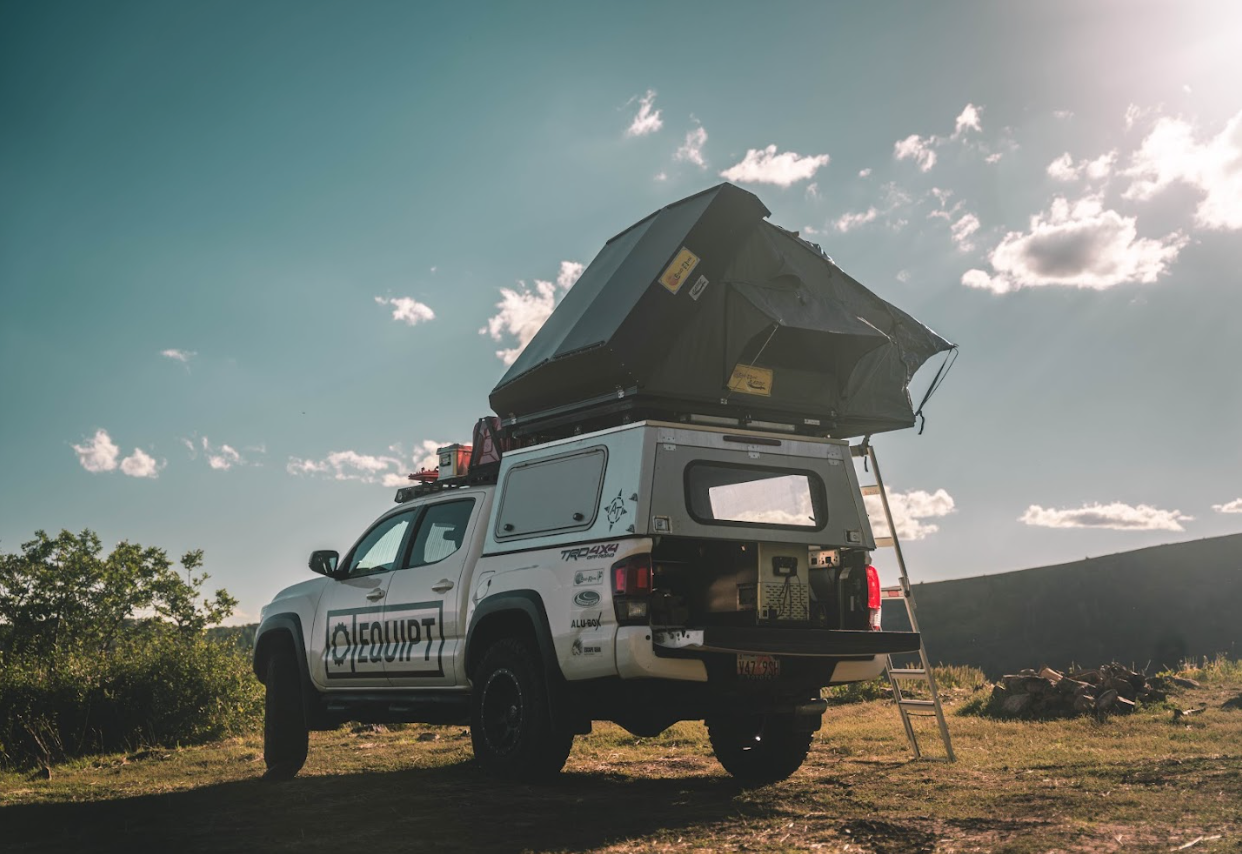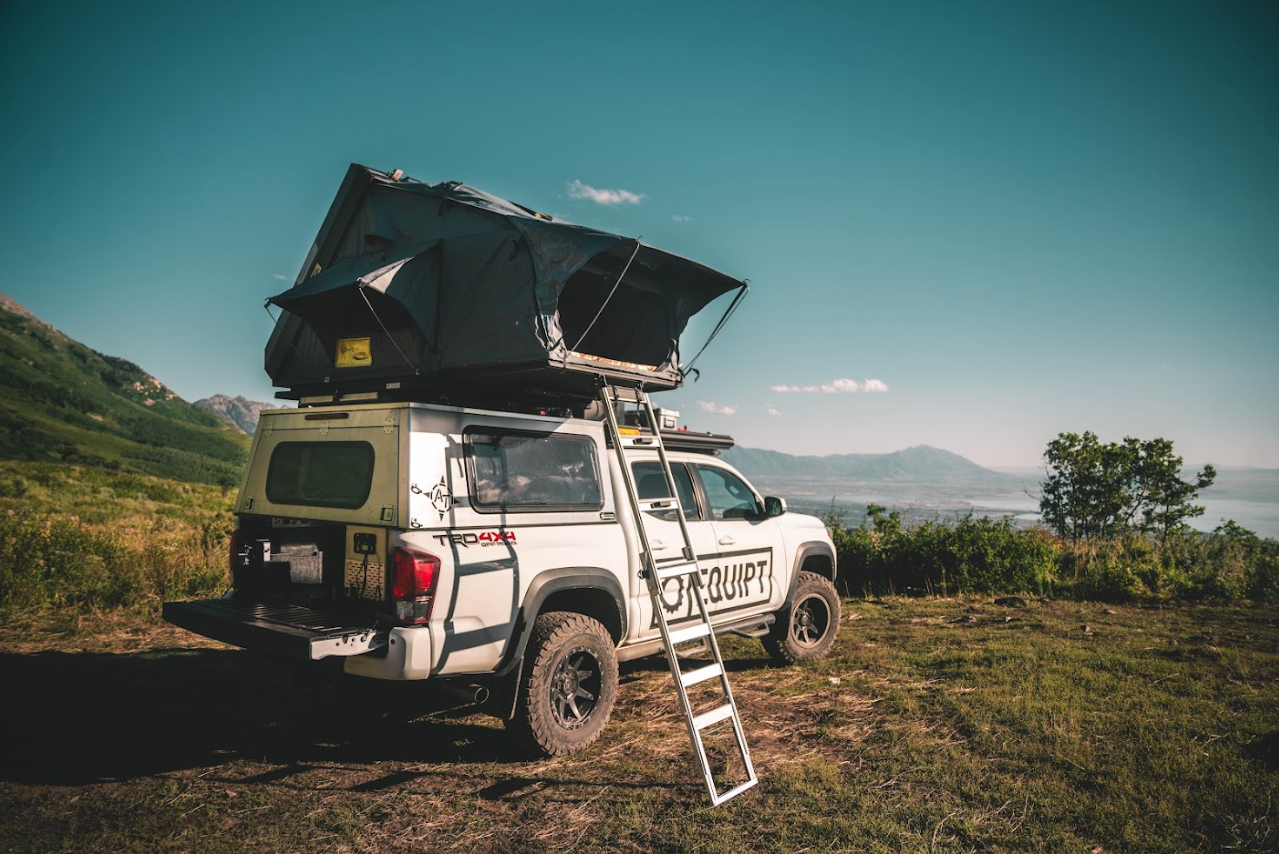 Sabre Hard Shell Roof Top Tent
With decades of proven experience on every major continent, Eezi-Awn's fabric tents have consistently outperformed the competition and set the industry's benchmark for both durability and performance. Shortly after the introduction of their hard shell tents, Eezi-Awn seamlessly maintained the same standards of excellence.
The Sabre is a revolutionary aerodynamic two (2) person sleeping system, engineered and manufactured at the Eezi-Awn facility in South Africa. Because of its compact size, the Sabre frees up space on the vehicle's roof. To make this happen, the Sabre is assembled with a one-piece hinge mechanism on the side with gas struts to help set up the tent in seconds. Upon opening, the walls of the tent are built from durable, rip-stop canvas with double entry privacy mesh panels, and both the roof and floor are insulated to keep you comfortable throughout the night. Much of the appeal that comes from a hardshell roof top tent is the quick setup and takedown, and the Sabre is no exception. A single person can quickly unclip only two latches and easily lift to open, then push down gently to close and lock. The full process takes only seconds to complete.
The tents are assembled with a one-piece hinge mechanism on the side. Gas struts set up the tent in seconds. The included ladder stores under the tent for easy access. It also comes equipped with internal LED Light, two storage pockets, a USB Port and a 70mm high-density laminated mattress. The Eezi-Awn K9 track system is attached to the top of the tent for compatibility with mounting additional K9 accessories, load bars, and/or a solar panel bracket.
Like all Eezi-Awn products, they are built to last.
• Lightweight Aluminum Body
• Powder-Coated Matte Black
• Stainless Steel Hardware
• 280 gram Teflon-coated Polyester Ripstop Material
• 70mm Thick Laminated Mattress
• Four Mounting Rails on Bottom of Tent
• Four-Point DIY Mounting Hardware Set
• Patented Anodized Aluminum Extension Ladder
• YKK© Zippers
• Single Entry with Privacy Mesh Panels
• 270-Degree Viewing
• Low Profiled Aerodynamic Design
• Automated Setup & Takedown
• Hook & Loop Solid & Mesh Panel Management
• Internal Storage Pockets
• National Luna LED Light on Interior Roof
• 12V Power Supply Socket (Supply Cord Included)
• Two Handles
• Lockable Stainless Steel Latches
• Assistance Strap for Lowering Roof
• Internal Gas Struts
• Rear Rain Fly Opening with Spring Steel Rain Fly Rods
• Insulated Roof & Floor
• Elevated Roof Rear Accommodates Bedding Storage
• Built-In Mattress
• Includes XKLUSIV Ladder With Built-In Extension
• Ladder Storage Inside Tent
• Accommodates 2 Adults

Dimensions
Closed Footprint : 55" L x 57" W | 1400mm L x 1450mm W
Open Footprint : 55" L x 79" W | 1400mm L x 2000mm W
Height : 15" Closed (Back), 55" Open

Weight (Including Ladder)
159 lbs | 72 kg

Material 280 g Teflon-Coated Polyester Ripstop
Mattress 70mm Laminated
Cover Black, Aluminum