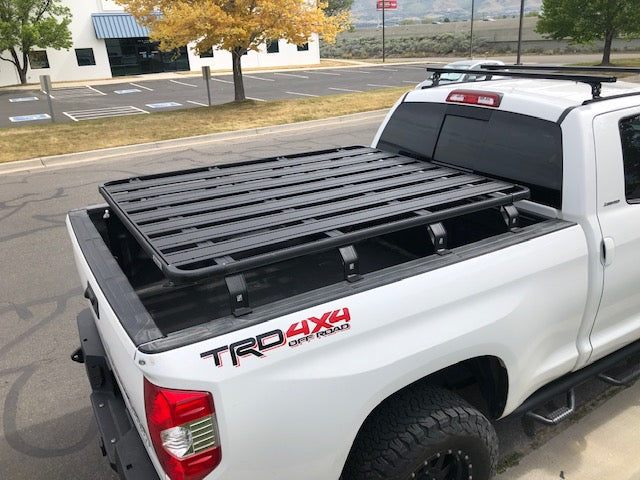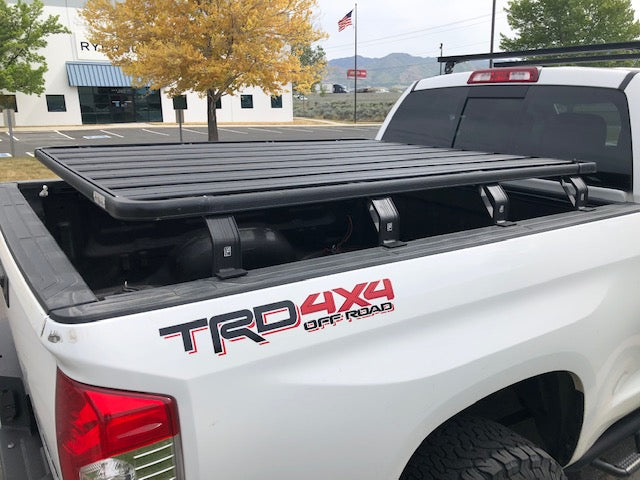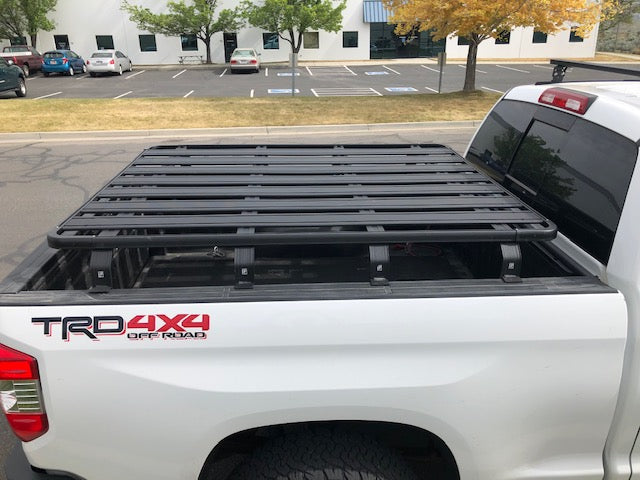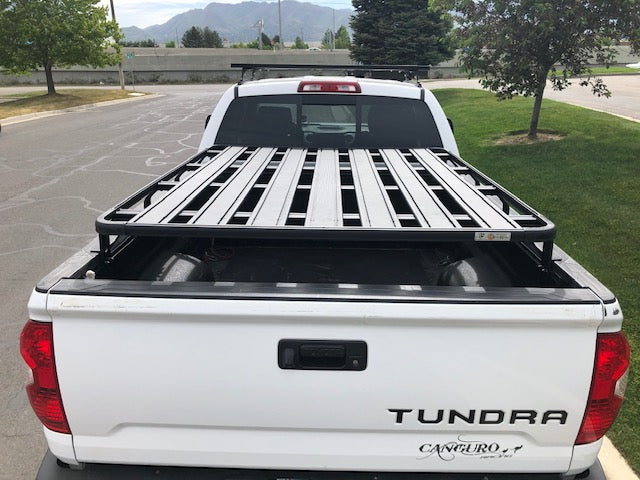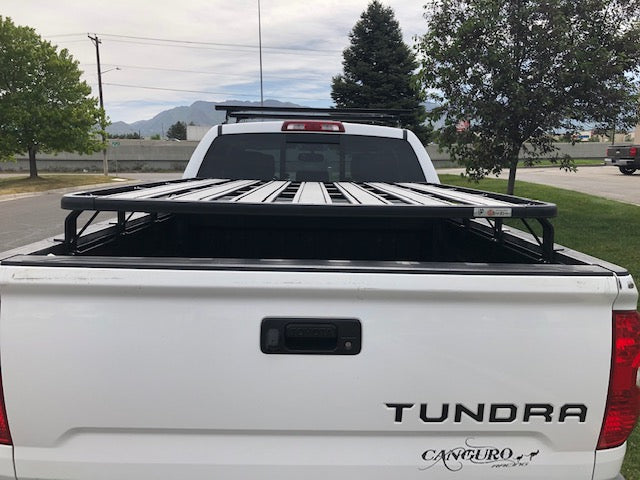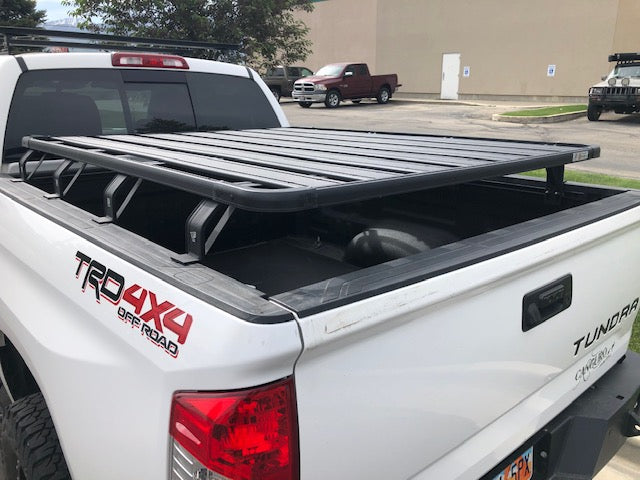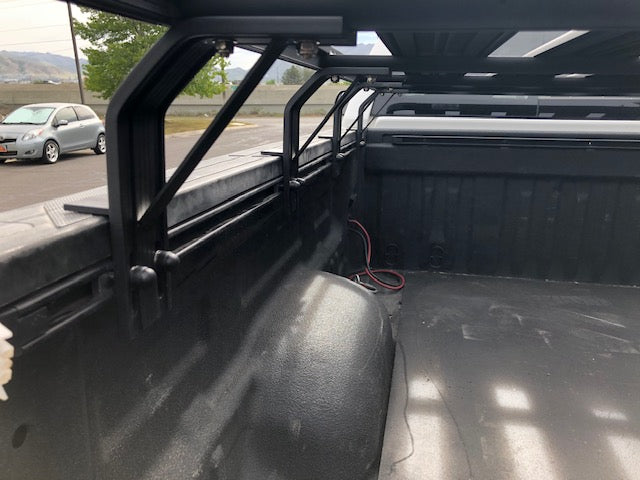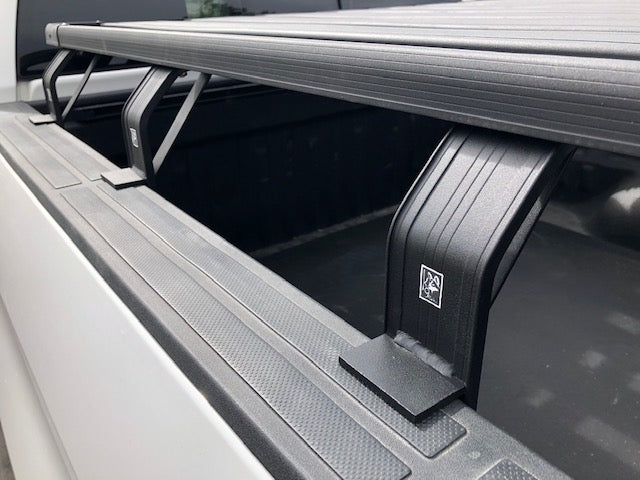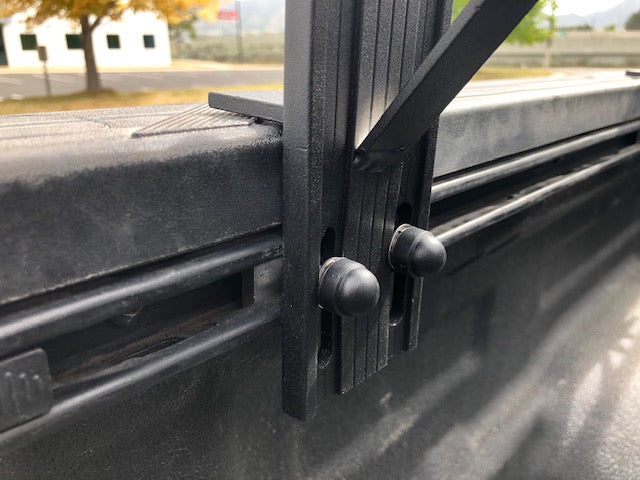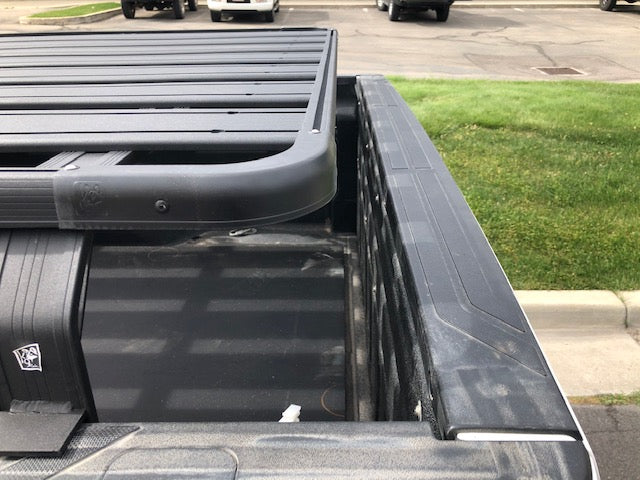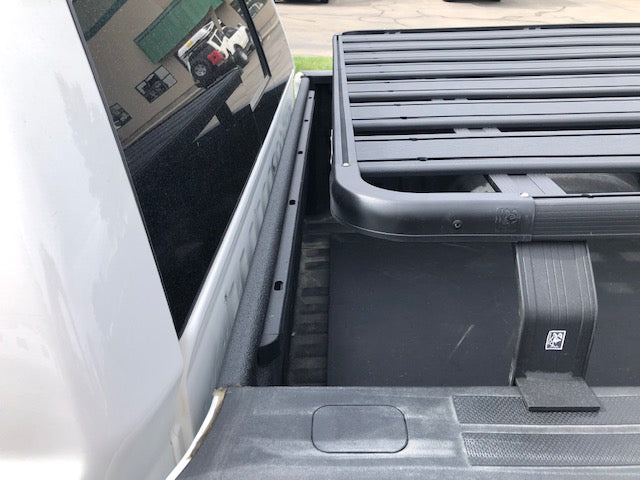 Toyota Tundra K9 Bed Rail Rack Kit
We're fairly sure your vehicle has a roof…are overland convertibles a thing yet? We digress. Eezi-Awn has been synonymous with roof racks, bars, tents, awnings, you name it, for the past 4 decades. And for good reason. For example; The K9 Bed Rail Rack Kit for the Toyota Tundra is essentially a roof rack...but for your bed. Keep roof top tents mounted low, or store boxes and gear on top of it. Go wild.
The K9 Toyota Tundra Bed Rail Rack is the latest rack option from the legendary Eezi-Awn brand. It uses the same platforms as the K9 Roof Racks, but with a unique bed rail mounted leg designed specifically for Toyota's under rail mounting channel. It saddles on the bed rail top surface, and attaches to the channel under the bed rail with 2 bolts per leg. It then attaches to the bottom cross braces on the K9 Platform, for a very stout rack solution over the bed of your truck.

Sizes

The K9 Bed Rail Rack for the Toyota Tundra is a great size solution for both the 5.5' and 6.5' bed. The bed rail legs taper in on each side from the bed rail to give it a very sleek look. The length is within inches of the front and back of the bed. The rack is low enough to provide access to items in the bed, and still keep your equipment below cab high for great aerodynamics and low center of gravity. Perfect for adding a Roof Top Tent. With the tailgate locked, it also provides protection against theft of your equipment.

Capacity

Capacity of the K9 roof rack system is broken into two measurements, static weight and dynamic weight. Static is when the vehicle is stationary. Dynamic is when the vehicle is in motion. We have not tested the K9 racks on vehicles to the point of roof failure. We can tell you what we have tested ourselves effectively. A dynamic capacity in the range of 500 pounds is possible. That load included a RTT, awning, dual fuel can holder, aluminum storage case with recovery gear, shovel, axe, under mount table, light bar, etc on a 2.2M long rack. A static capacity of 1000 pounds is possible. An example of static load increase would be adding people in the tent on the roof. Please understand these capacities are on vehicles that have modified suspensions designed to manage this amount of weight. They are not a warrantied or guaranteed capacity. Your load capacity will vary.

No Drilling

The K9 Roof Rack System for the Tundra Bed Rail requires no drilling at all for any size rack. Our proprietary Bed Rail Legs attach directly to the OEM under rail channel. All hardware included.

Installation

Installation of this rack system can be done by one person in approximately 1 hour. Help lifting the platform on the bed would be appreciated. You start by installing the Bed Rail Leg threaded plates into the under rail channel. Attach the Bed Rail Leg to the plates with the included hardware, leaving them loose for lateral adjustment. Lay platform on top of Bed Rail Legs, and locate legs under each corresponding cross brace. Attach legs to the platform with associated hardware, loose for the moment. Align rack where you prefer, front to back and side to side. Tighten legs to channel and to platform. All good to go.

System Components

The components used on the Tundra bed rail rack systems include a set of K9 Bed Rail feet (2 per platform cross brace), and a platform.

System Accessories

The Eezi-Awn K9 Roof Rack System comes with a complete array of bolt on accessories. Jerry Can holders, Axe mounts, Shovel mounts, Hi-Lift Mounts, Max Trax Mounts, Awning Mounts, Under Rack Table mounts, and much more. Take a look at the accessories page to see all our options.